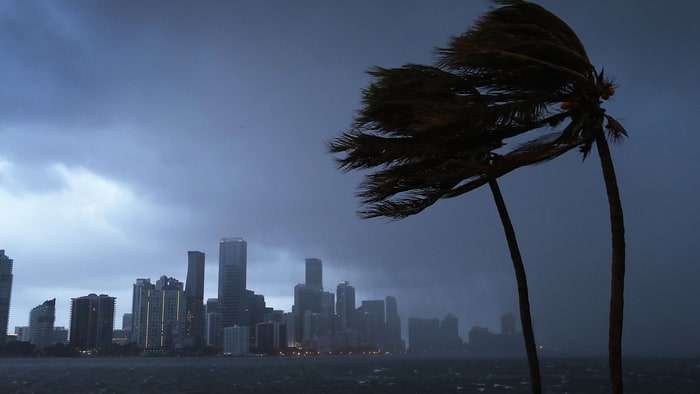 Hurricane Irma was downgraded to a tropical storm Monday morning after leaving many thousands of homes and businesses flooded and millions without power. While not minimizing the human suffering, the storm's destructive power nonetheless appears to be less than what had been anticipated. Bloomberg Intelligence Analyst Jonathan Adams revised his estimate of insured losses down to $13 billion from an earlier figure of $33 billion.
Insurance ETFs rallied on the news, and were up as much as 3.4% as of 11:30 A.M. (Table 1). The PowerShares Property & Casualty Insurance ETF (KBWP) had the most concentrated exposure and rose the most, whereas the other two include other types of insurers with less exposure to this particular catastrophe.
Table 1: Insurance ETFs
| | | |
| --- | --- | --- |
| Ticker | Fund | Today's Change* |
| KBWP | PowerShares Property & Casualty Insurance ETF | +3.4% |
| KIE | SPDR S&P Insurance ETF | +2.1% |
| IAK | iShares US Insurance ETF | +1.7% |
*Note: as of 11:30am EST on 9/11/17
Source: www.etfresearchcenter.com
It makes sense that share prices are reacting to projections that insured losses will be less than feared, meaning the hit to earnings is also likely to be less than anticipated. But of course hurricane season is far from over, and no one can predict when the next big disaster—weather-related or otherwise—will hit. Therefore it makes little sense to evaluate an industry like insurance on measures such as EPS that focus on results from a single year.
The ALTAR Score™—our measure of an ETF's overall investment merit—uses a five year average of profitability to assess the underlying constituents' sustainable earnings power, minimizing the swings that are bound to occur in any single year. Although the ALTAR Scores™ for the three Insurance ETFs place them in the range of a NEUTRAL recommendation (ALTAR Scores™ between 6%–8%), we note that they rate above the broader Financial Sector SPDR (XLF) and considerably higher than the S&P 500 SPDR (SPY) as shown in Figure 1. Perhaps the post-Irma relief rally will have legs.
Figure 1: ALTAR Scores™ as of 9/11/17
Insurance ETFs, Financial Sector SPDR & S&P 500 SPDR
Source: ETF Research Center
Do you think the rally in Insurance ETFs can last? Let us know your thoughts below.